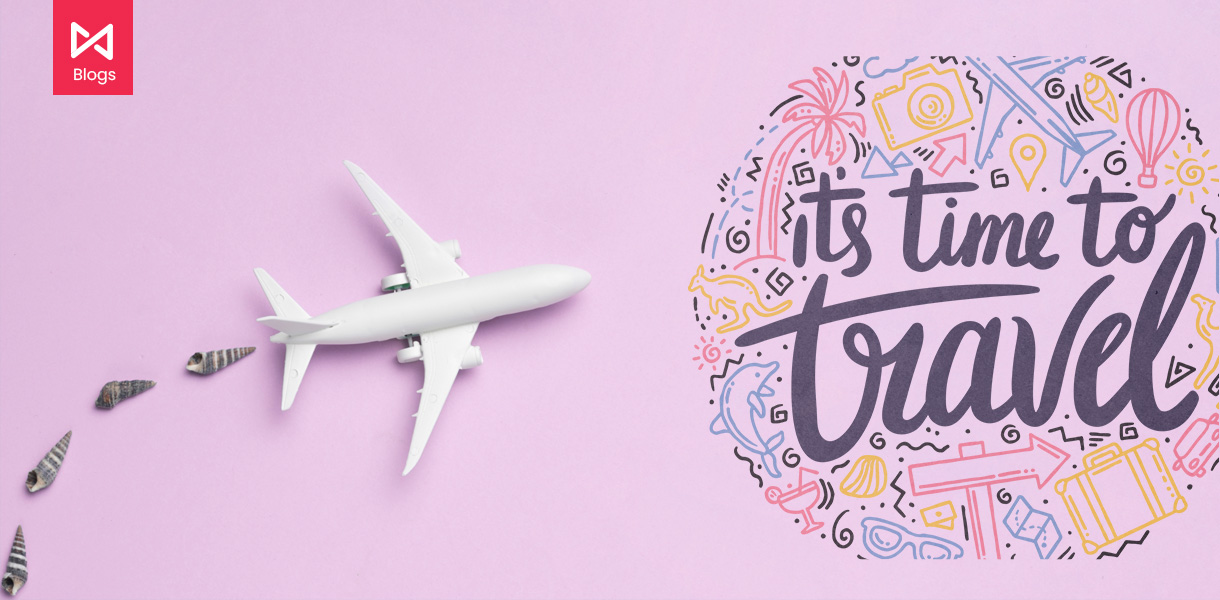 The holiday seasons are just around the corner.
Come winter and most of us are all geared up with our much-awaited holiday plans.
Taking relief from the travel and social restrictions laid due to the Pandemic, travellers are exploring opportunities to make this holiday season a memorable one. From destination travels to a long list of shopping, the holiday season is the busiest time of the year with an absolute hustle bustle all around. The holiday season apparently becomes the most eyed opportunity for marketers to strike a deal and the final chance to boost sales before the new year. Brands are all ready to engage with their customers during the holiday season with innovative marketing strategies across social channels and stand out with their unique marketing campaigns. From the marketing point of view, it is the prime opportunity to increase sales and connect with the audience.
A well-planned Holiday Marketing Campaign results in memorable advertisements. Customers connect with the brand's identity, message & emotions. Here are some of the interesting marketing campaigns that will have your holiday promotions stand out!
Hold on! But before you even begin preparing your marketing checklists, marketing plan, or marketing strategy, make sure you have well-laid down covid guidelines and awareness messages as a part of your marketing campaigns.
•    Holiday Marketing Checklist:
One of the most important steps before planning a holiday campaign is the holiday marketing checklist. One must make a checklist to cover all the vital elements in a holiday marketing plan. 
According to the marketing experts, a well-planned marketing checklist will help brands to be sure of every marketing campaign planned. The team also emphasizes that the holiday season marketing plan must be in synchronization with organizational objectives. It should be distinctive yet innovative in every form. For instance, The Great Indian Festival Sale was a big hit due to its planned marketing and extensive media coverage by Amazon. It is the brightest example of Marketing Strategy done right. Moreover, starting early can give one the first-mover advantage and be registered in the mind and heart of the targeted customers before others follows the suit.
•    Stir the emotions of your target audience's Holiday Season campaign:
Research what is trending. Which are the topics that relate to your product and how you can give it an emotional twist to make your audience feel connected with the Brand.
One of the most widely acclaimed and appealing Christmas campaign was from One Plus. The season marketing campaign used the hashtag #redcablechristmas. The campaign was planned at premium malls wherein the visitors were asked to tweet using the hashtag. The visitor's tweet was not only displayed on the gigantic screen but was also acknowledged with two gifts. The first gift was for the tweeter itself and the second encouraged one to spread the happiness and be someone's else Santa. The campaign was beautifully executed across the cities. It struck the right chords and was one of the most enticing and viral campaign of the year. 
The simple yet strong visuals along with crisp communications were its major highlight. Similarly, for a holiday campaign, you can think of different ways to connect with your audience. You can pick up topics that resonate with celebrations, holidaying, and your core business too. 
•    Holiday Trending Hashtag:
Hashtags can help you to trend in the virtual world and get the limelight on your brand. A hashtag can create brand awareness and increase the visibility of your content. It can boost the traffic on your content and website too. It can allow one to interact with the audience and promote the holiday season campaign strategically. The success of a marketing campaign based specifically for holidays, depends to a large extent upon the hashtags that you will use to promote the campaign on social media platforms. The marketers must use trending holiday hashtags to get the maximum views and instigate a call to action. 
Some of the trending hashtags from previous holiday and festive season campaign includes #CelebrateDiwaliHeroes By Snapdeal.  The campaign evoked emotions by recognizing the efforts of military personnel and their hardships. The campaign set the perfect backdrop for the #UnboxDiwali sale.
•    Run A Special Contest:
One of the best ways to involve your audience with your brand and boost the interaction is by running an online contest. Asking your target audience to upload their pictures, give captions or suggest taglines in a contest form can be advantageous for your brand. It can fill the excitement for the results and campaign unveiling too. The prize does not need to be very extravagant. A nominal prize can also get incredible results. Introducing a series of contests and keeping the excitement intact in the audience. Make sure all the social media platforms are well-aligned and uniform communication is reached to the masses.
•    Go Creative:
Static images and simple graphics will not make your content and campaign stand out. The attention span of an audience is just a few seconds. It is imperative to hit the right spot and interact with your audience to get the best results. Therefore, the social media handles, website content, and other communication collateral must be well-planned. You can start it with a holiday season event teaser, conduct theme contests, polls, use question and answer, Memes, interactive gifs, and much more. Unleash your creativity to the fullest and explore newer ways to make your holiday season marketing campaign a successful one. 
The holiday focused marketing campaign like one of Makemytrip emphasizing on its core benefits and features can be advantageous. It can help you to optimally project your product and differentiate it from competitors. But what works for Makemytrip and makes it different is its creative approach, strong visuals and clear communications. Similarly, if you want your campaign to be at center stage then explore all the creative avenues and ensure that your seasonal marketing campaign is ultra-creative.
•    Free Gift With Every Purchase:
The holidays and festivals are gifting seasons. Everywhere right from the departmental stores, malls to the eCommerce website you can notice free gifts or assured gifts with every purchase. Gifts are great motivators. They attract the target audience and lure them to know more about your brand and product. Hence, when you are planning a festive campaign make sure you have the right balance of discounts and gifts to impress your audience. 
MyGlamm an online eCommerce cosmetic and beauty product shopping site during Diwali introduced several free gifts and discount offers too. The cosmetic brand received a positive response from the target audience due to the right mix of shopping triggers and clear communication.
Holiday Marketing Strategies by Travel Agencies
You can probably agree that holidays are the absolute stress buster. When you go on vacation you finally take a break from the mundane schedule and find some good time to relax, rejuvenate, and reset. Come winters most of us are all set to explore places and make the most of them. For travelers, this holiday season brings a new ray of hope and excitement. 
We all have been through a lot this year, most of us quarantined and working from home during the pandemic. Most of us have been working more hours and taking less time off, bringing on various mental and physical health challenges. After almost an entire year of travel restrictions, many of us are finally ready to dust off our suitcases and pack our best of dresses and start to dream again of beaches, mountains, roads, and monuments. Having said that, it is always better to travel with care & plan your holidays in advance. Reaching out to professional travel consultants can make things easier & worthwhile. This will help you to relax & enjoy your holidays stress-free.
At Star DMC Holidays, we have it all sorted for you. Apparently, our customized, step-by-step well chalked out itineraries will help you give you the best of your first post-Covid vacation:
We ensure personal communication with all travelers (existing & prospects) related to social topics, family well beings & evolving protocols. This will help them to be well informed about the dos and don'ts.
We keep our travelers, partners, and associates updated about the amendments in the Tourism Policy Responses to the coronavirus (COVID-19)
All our partnered hotels, restaurants, and cabs strictly follow the COVID 19 operating guidelines and ensure hygiene and sanitation are given utmost importance for our guests.
Continuous awareness about inbound & all outbound destinations must be sightseeing's so as to gain knowledge as well as to create interest across social media and WhatsApp shares.
Memories, anecdotes & pictures of past tours were shared to spread happiness & belongingness to keep our travelers excited about their holidays.
We send across personalized emails on the must-visit places, affordable packages, holiday checklists & other interesting information to help our travelers plan their holidays well in advance.
If a full-on vacation is too stressful or looks far to enjoy, consider a stay-cation, day-cation, or micro-cation—a leisure trip shorter than four days. By all means, take a short-term leisure break that works best with your interests and your lifestyle. We will help you plan for shorter yet relaxing trips. This is apparently an important part of any good self-care plan.
If travelers are looking for exploring places in and around Odisha, we have it sorted. Unexplored and fine destinations of Odisha with Eco retreat stays are promoted for short weekend family vacations.
"Holidays heals your mind, body, and spirit. It prepares you for a new beginning. It kind of gives you a perspective on life and you return to work refreshed and restored. Whatever you decide, whether short or long stays make sure it fits your interests, budget, and lifestyle. I hope you all have a great relaxing, and non-stressful holiday."
~ Ms.Subhashree Bhanja
Managing Director
Star DMC Holidays
To Sum It Up!
Planning a campaign for the holidays is a very overwhelming task. It requires lots of attention to detail, careful planning, and research to ensure success from the holiday season campaign. For businesses and retailers, it gets very stressful to be over the top every time & be in the minds and hearts of their targeted customers. Looking out for New Year campaign ideas, digital marketing strategy along marketing plan is important.
Collaborating with seasoned marketing agencies will help to make the most of the holiday season marketing with the right strategy & plan in place. Get your holiday marketing campaign to stand out and draw the customer's attention, get high audience interaction, and fulfillment of sales objectives.